2022 CHAMBER BOARD AND STAFF
Klamath is proud of those who serve the Chamber and the surrounding community.
To contact one of these people, please use our contact form.
Executive Board
---
President
Jason Aarstad
Gathering Grounds Coffee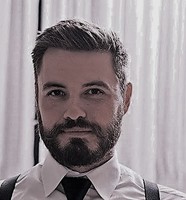 Jason is the owner and roastmaster of Gathering Grounds Roastery, a downtown cafe and coffee roaster/wholesaler; Co-Founder of Gaucho Collective, Klamath Falls' only coworking office; Vice-President of the Klamath Falls Downtown Association Board of Directors, as well as an all around advocate for southern Oregon.
He graduated from Oregon Institute of Technology with a BS-MET degree. Jason and his wife Tahlia have lived in Klamath Falls only since the summer of 2014, but see great promise in what this town can become and want to be part of its imminent growth for years to come.
---
1st Vice President
Joe Spendolini
Southern Oregon Solutions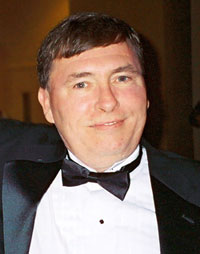 ---
2nd Vice President
Courtney Shaw
Coldwell Banker Holman Premier Realty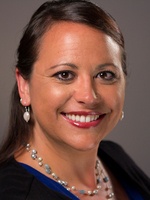 Courtney is a second generation Real Estate Broker and has been licensed since 2013. Growing up in Klamath Falls and around real estate has given her a wide wealth of knowledge in regards to the area and in real estate.
She received her bachelor's degree from Southern Oregon University in 2006 and her Master's degree from Argosy University in 2010.
Both of these degrees have helped her make her Real Estate career a successful one and she is always striving to become more experienced and educated in her industry and her community.
Courtney lives in Klamath Falls and is a proud resident, involved in many community committees, volunteer positions and events. She feels that being committed to involvement in her community will  help Klamath Falls vastly in all sectors. She loves to be outdoors and enjoys all of the activities in all seasons that Klamath County has to offer. She loves her job and helping dreams find a home.
---
Treasurer
Wendy Rohrbacker
Pacific Crest Federal Credit Union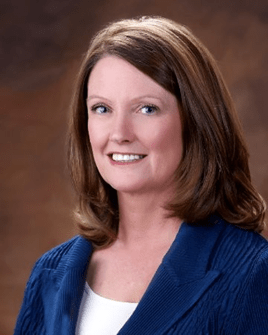 As a Lifelong resident of Klamath County, Wendy Rohrbacker serves as the Chief Experience Officer at Pacific Crest Federal Credit Union.  Wendy began her career with Forest Products in 1983 as a file clerk while she was still in high school.  Wendy then joined the staff full time and served as a teller, share draft processor, Visa administrator, new accounts representative, and teller supervisor.  In 1999 Wendy became the IS Manager and in 2003 became the Human Resource Director.
Wendy's role is to provide leadership in the human resources area from the hiring process to career development, and ensure compliance with state and federal employment regulations.  Wendy is also responsible for the credit union's facilities.  Wendy has been involved in the Klamath and surrounding communities with Relay for Life, SMART, Junior Achievement, United Way and the Oregon Employer Council.  Wendy has a Professional in Human Resource (PHR) designation from the HR Certification Institute.  Wendy attended Western CUNA Management School, graduating with the Lambda Class in 2013.  Wendy appreciates and enjoys serving our community, credit union members and contributing to the family atmosphere at Pacific Crest FCU.
---
Immediate Past President
Rich Schuster
173rd Fighter Wing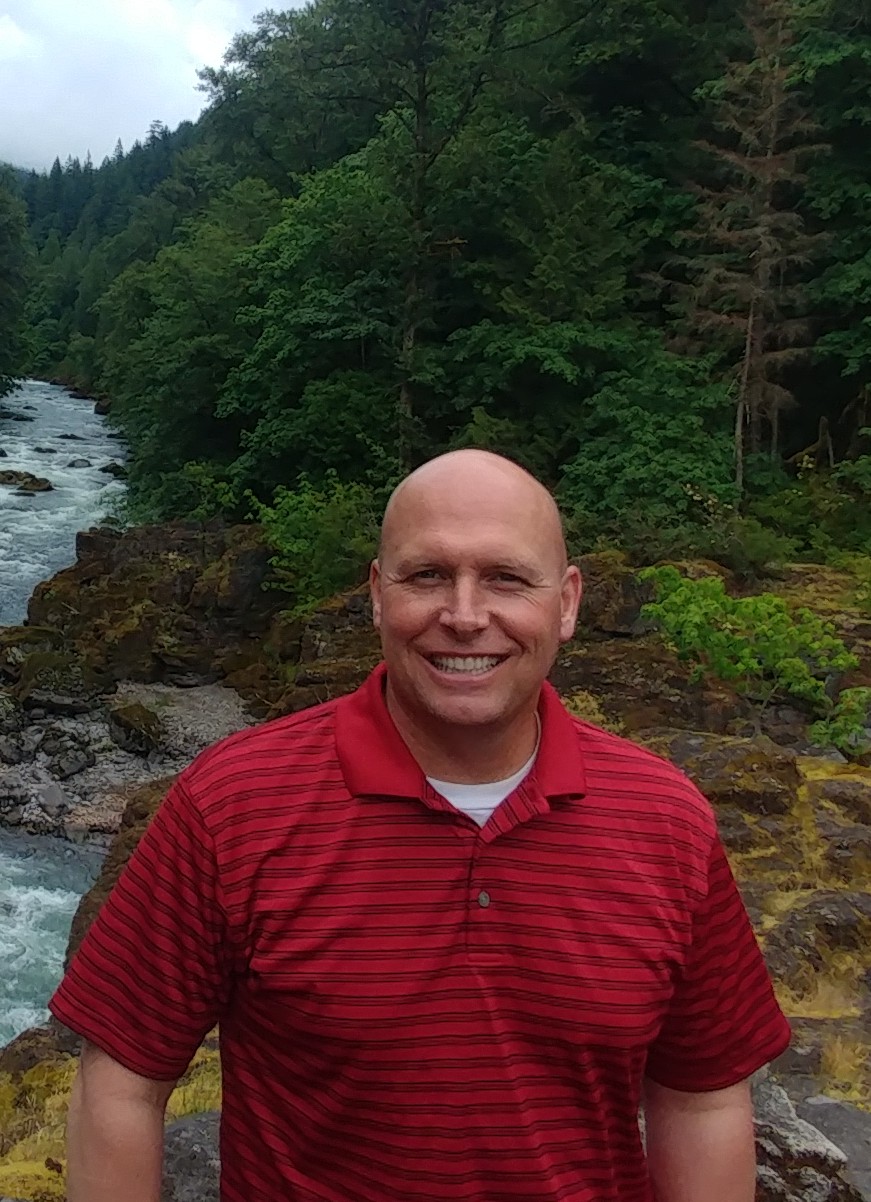 Major Richard Schuster is the Commander, 173rd Aircraft Maintenance Squadron (AMXS), Kingsley Field, Klamath Falls, Oregon. He commands a squadron of approximately 150 airmen responsible for aircraft repair, maintenance, sortie generation, and aircraft launch/recovery evolutions directly supporting the 173rd Fighter Wing's mission of training all Active Duty and Air National Guard F-15C/D pilots.
Richard Schuster was born in Medford, OR and grew up in Southern Oregon and Northern California. After graduating in Mt. Shasta, he started his military service enlisting as an Avionics Technician in the United States Marine Corps in February 1992. He attended training in both NAS Memphis, TN and Camp Pendleton, CA. He performed multiple roles in the USMC including Avionics, Quality Assurance Representative, Safety Manager, COMSEC Manager and Avionics COM/NAV and wire bundle repair formal instructor at multiple locations including Marine Corps Air Station Camp Pendleton, 29 Palms CA, El Centro CA, MCAS Futenma Okinawa Japan, Osan Air Base and during a Naval Western-Pacific (WESTPAC) on the USS New Orleans serving in seven different host nations in the Western Pacific and Persian Gulf. He separated from Active Duty in 1999 and worked for the Department of the Navy as a civilian contractor in support of the NAS Fallon Search and Rescue unit, and the Naval Strike and Air Warfare Center (NSAWC, Top Gun) high-altitude helicopter troop insertion/extraction and rescue operations. He enlisted in the Oregon Air National Guard (ORANG) at Kingsley Field in December 2004, serving as an enlisted federal technician, Active Guard Reservist (AGR) and Drill Status Guard Member (DSG) in multiple aircraft maintenance, operations and command post positions until the end of 2009. From late 2009 until late 2013, he was a civilian GSSO/Program Manager for the United States Air Force at Hill AFB while simultaneously serving as a Drill Status member with 173rd Fighter Wing- traveling back and forth between Utah and Oregon each month before returning to Kingsley Field full time in December of 2013. Before taking command of the 173 AMXS in June of 2020, he has served as the 173 Maintenance Operations Flight Commander, 173 Force Support Flight Commander, 173 Maintenance Group Deputy Commander, and the Aide-de-camp for the Oregon State Adjutant General (TAG).
---
Amanda Blodgett,
Klamath Health Partnership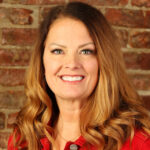 Following a family member's near fatal accident and working through the subsequent challenges of navigating the healthcare system, Amanda knew she wanted to improve the patient's experience in healthcare. After completing her graduate degree, Amanda originally joined the Klamath Health Partnership team as the Quality Officer and focused her work on quality improvement, wellness, and prevention initiatives before taking on the role of Chief Operations Officer.
Under Amanda's leadership, KHP played an instrumental role in the healthcare community's response to the COVID-19 pandemic including mobile testing and on-site vaccinations clinics for businesses throughout the county, and drive-thru vaccination events at the Klamath County Event Center. Amanda is a doctoral candidate at the University of Arizona Global Campus and is researching the use of telehealth in rural primary care practices as a response to the COVID-19 pandemic for her dissertation. Proud to have called the Klamath Basin home for more than 40 years, Amanda and her husband spend their free time volunteering at the Klamath County Fairgrounds and for several youth organizations including 4H, FFA, and various youth rodeo events. Prior to joining the KHP team, Amanda served as an Active Duty Guardsman at the 173d Fighter Wing.
---
Austin Lesueur
Midland Empire Insurance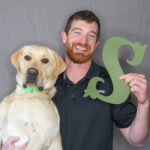 Austin was born and raised in Klamath Falls, where he graduated from Henley High School in 2009. Austin enjoyed basketball, academics, and being outdoors while growing up in the basin. After High School, Austin enlisted in the United States Marine Corps, where he dealt in Supply and Administration. During his time in the Marines, Austin was able to travel many places and meet people from all walks of life.
Although Camp Lejeune, North Carolina was home for most of the time, Austin also got to see Kuwait, Jordan, Spain, and Gibraltar on a deployment with 1st Battalion, 2nd Marines in 2012. After the Marine Corps Austin bounced around the West Coast for a year before ending up in college in Bozeman, Montana, where he graduated in 4 years with a Bachelor of Science in Business from Montana State University. Austin moved back to Klamath Falls in 2018 and began working in the family business, Midland Empire Insurance Agency, which he and his brother bought on January 1, 2020. Austin and his dog Sloan spend their days selling insurance, hunting, and fishing – truly enjoying all the great opportunities the Klamath Basin has to offer.
---
Ry Kliewer
Skyline Brewing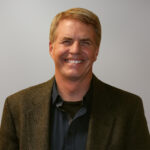 Born in a rural Illinois farming community, Scott Siracusa began his career in the decorative surfaces industry in 1990 at Aetna Plywood, starting out in the warehouse before transitioning over to sales. Siracusa was recruited by a surface solutions company in 1999, where he served as a manager overseeing the Western North American territory until joining Wilsonart in 2011.
He is now the General Manager of the Wilsonart, KML Thermally Fused Laminate (TFL) divisions, and the brand new Wilsonart facility in Klamath Falls, Oregon. Siracusa lives happily with his wife and their two dogs and can be found mountain biking, riding motorcycles, or snowboarding in his free time.
General Board
---
Adam "Axe" Gaudinski
173rd Fighter Wing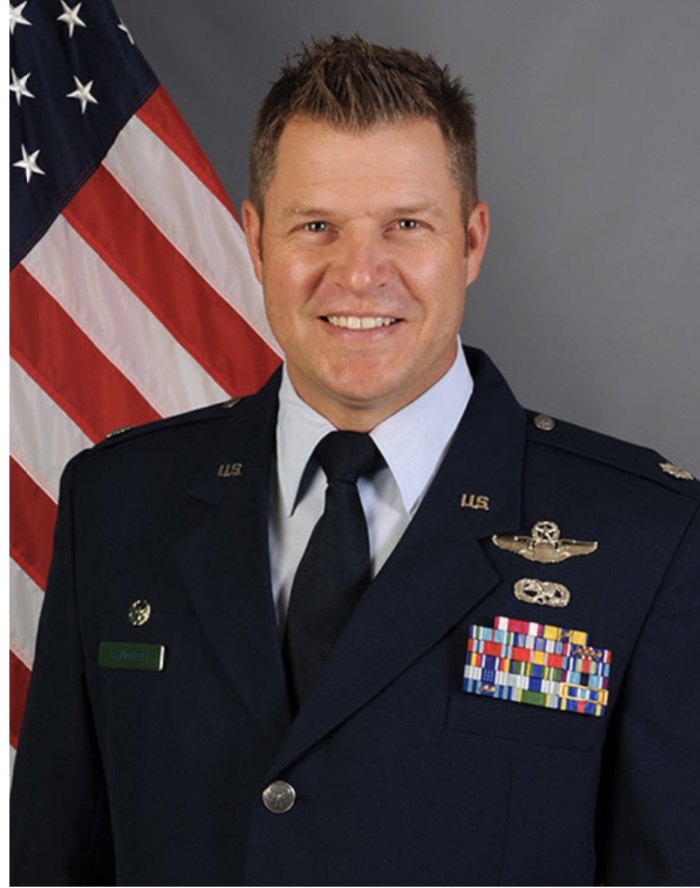 Lieutenant Colonel Adam J. Gaudinski is the Commander of the 173d Maintenance Squadron, Kingsley Field, Klamath Falls, Oregon. He is responsible for the largest squadron in the Oregon Air National Guard, maintaining 32 F-15C/D aircraft and their associated ground equipment. 
Additionally, he exercises oversight and command of a 260 member team composed of Total Force Airmen dedicated to the success of daily operations and training at Kingsley Field. This Wing is the home of the USAF's sole source of F-15C pilot production tasked to train the world's greatest air superiority fighter pilots. Furthermore, he is the Oregon Air National Guard State Partnership Program Air Lead for Vietnam and Bangladesh; responsible for joint, multilateral efforts in the Indonesia Pacific Command region.  
Lt. Col. Gaudinski started his service at the United States Air Force Academy in 1999 and graduated in 2003 with a Bachelor of Science. At the Academy, he was a 4 year starter on the varsity lacrosse team earning numerous team, conference, and scholastic awards. He completed undergraduate pilot training at Columbus Air Force Base, Mississippi in 2005 and was hand picked to return as a T-37 and T-6 instructor pilot for his first assignment. During that assignment, he was selected to support Joint Counter-Narcoterrorism contingency operations for SOUTHCOM and SOCOM in Central and South America. In 2008, he attended F-15 training at Tyndall Air Force Base, Fla. From 2008-2014, he had back-to-back operational assignments at Kadena Air Base, Japan and Kingsley Field, Oregon and  participated in Operations ENDURING FREEDOM, ATLANTIC RESOLVE, INHERENT RESOLVE, NOBLE EAGLE, and  AMERICAN RESOLVE. In 2014, Lt. Col. Gaudinski joined the 114th Fighter Squadron at Kingsley Field as an F-15 Instructor  Pilot. Prior to his current position the Lieutenant Colonel was the Director of Operations, 114th Squadron, Kingsley Field,  Oregon.  
---
Al Pranghofer
Rocky Mountain Construction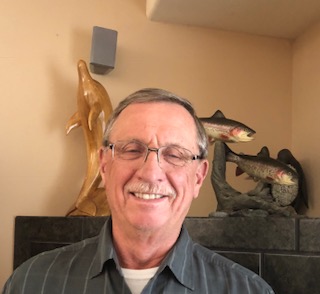 Al was born and raised in Klamath Falls. He attended Klamath Union High School,  after he graduated he attended Oregon Institute of Technology where he earned his bachelor's degree. He then worked for Jefferson State Redi Mix, where he worked as a manager for 20 years. Al then moved to Knife River Corporation,
He retired from Knife River several years ago. He then went to work for Rocky Mountain Construction, where he is a part time sales manager.
He is on the Klamath County Economic Development Association Board and the board that is working on raising funds for the new Apprenticeship and Industrial Trades Center at the Klamath Country community college.
---
Brienne Humphrey
First Interstate Bank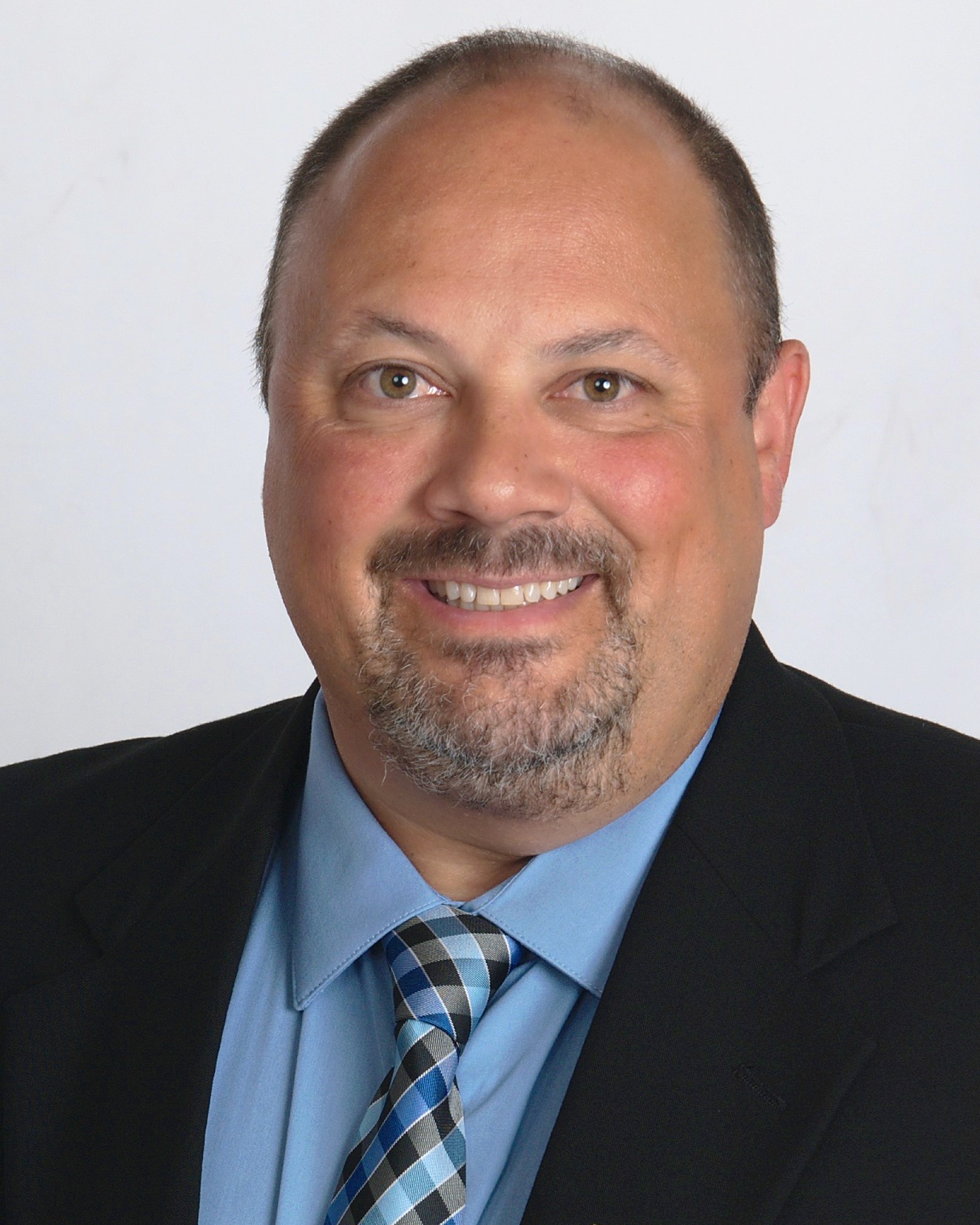 Born and raised in Klamath County, Bryan serves as District Sales Coordinator with Aflac. After opening his own insurance agency, he contracted with Aflac.  Bryan's professional experience began at Ray's Food Place where he worked as a checker all the way up to store director.  After 16 years with Ray's Food Place Bryan began a 12-year career in lending with US Bank as Commercial Relationship Manager and Asst. Vice President.
Bryan is an Oregon Tech graduate where he earned a degree in Accounting Technology.
Bryan currently volunteers on the board of directors for Klamath-Lake CARES and has previously served on the board for KFDA, KCEDA, BFAST and West Scholarship committee.
Bryan's Hobbies include working on my '68 Bronco, home improvement, camping, shooting, side by side rides and being outdoors
---
Dan Morrison
Cal-Ore Communications Dan is President of Cal-Ore Telephone and Cal-Ore Communications.  In this role, Dan is responsible for all company operations. Cal-Ore has been a trusted telecommunications provider for over 65 years to communities in and around the Basin and Northern California.
Before joining the Cal-Ore team in 2013, Dan held senior leadership positions in Information Technology for a multi-national manufacturing company. Dan has more than 25 years of leadership experience, ranging from entrepreneurial to global business environments.
Dan was born in Klamath Falls and his family has conducted business in Northern California and Southern Oregon for generations. His Great Grandfather's blacksmith shop from 1888 still stands in Lookout, CA.
Dan is actively involved with multiple community groups and initiatives. He holds a Bachelor of Science degree from the Oregon Institute of Technology.
---
Ellsworth Lang
Kla-Mo-Ya Casino and Sleep Inn ---
Jenine Stuedli
Caliber Home Loans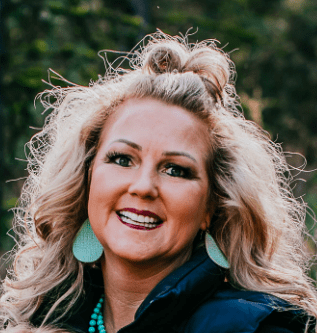 Jenine Stuedli is currently a Mortgage Loan Consultant for Caliber Home Loans.   She can assist with VA, FHA, 1st Time Homebuyers, Conventional loans and refinances.
Jenine Stuedli has over 20 years of lending experience.  Mrs. Stuedli received a Bachelor's Degree in Global Business Administration from The University of Portland.
Mrs. Stuedli serves on the following boards: Co-Chair for Friends of the Children, United Way, Rotary Club and Rotary Scholarship Foundation, Hospital Authority Board, Klamath Gospel Mission, Chamber of Commerce and Ambassadors group, and a 2004 graduate of Leadership Klamath.
When Jenine is not in the office she enjoys spending time with her daughter Savanna and husband Andrew Stuedli, they enjoy outdoor activities such as; camping, rafting, boating on the lake and taking warm vacations!
---
Joe Hudon
Herald and News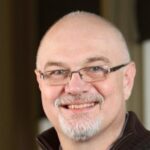 Joe Hudon is general manager and advertising director for the Herald and News. He worked in Klamath Falls from 2012-2014 before returning to the newspaper in 2020. Joe has served on numerous boards and committees during his career, including four chambers of commerce in Oregon and California.
He is a native of the Pacific Northwest, as is his wife Jamie, who also works locally. They both enjoy Klamath Falls, which was a key reason they chose to return when the opportunity presented itself. Both are eager to participate in community events when circumstances permit it. Joe is a proponent of fostering a strong local business environment and has helped many businesses through innovative marketing efforts. He enjoys bike riding, reading and spending time with his wife and two dogs, Lola (who was adopted in Klamath Falls) and Leona, another shelter dog.
---
Katy Baker
Blonde Pineapple Born and raised in Southern California, Katy attended Southern Oregon University and graduated with a BS in Economics. Katy spent 10 years in finance working in the mortgage industry when her husband's job brought them to Klamath Falls.
Katy founded KB Designs in 2017 teaching classes and sharing her love of crafting with Klamath. She started small, selling her handmade items at Keepers Corner, Hosanna and The Hanger Boutique. Her long time dream of having her own store became a reality when her good friend and now business partner, Leah Phillips, collaborated to start the Blonde Pineapple in 2019. She feels blessed to be part of the Klamath Falls community, where she lives with her husband and two children.
---
Michelle Spendolini
Elwood Staffing Michelle is the Area Manager for Elwood Staffing, covering Medford, Klamath Falls and Roseburg. Her career with Elwood Staffing began in 2006 when it was HireCalling.  As Area Manager with Elwood Staffing, Michelle gets to be apart of the growth and development of solid teams of professional staff who share the same passion for helping our communities.
Elwood Staffing is family owned and operated, they are able to provide their clients and associates with corporate resources while maintaining the family culture. Michelle and her team are large enough to provide corporate resources, yet still maintain the family culture. It is the best of both worlds. Elwood Staffing is partner to both job seekers and companies, big and small. They are a resource to help our communities, by assisting companies in finding the talent they need. While helping job seekers find what they are looking for, whether it is their first job, or final career move.
---
Pam Greene
Amcom Tax and Accounting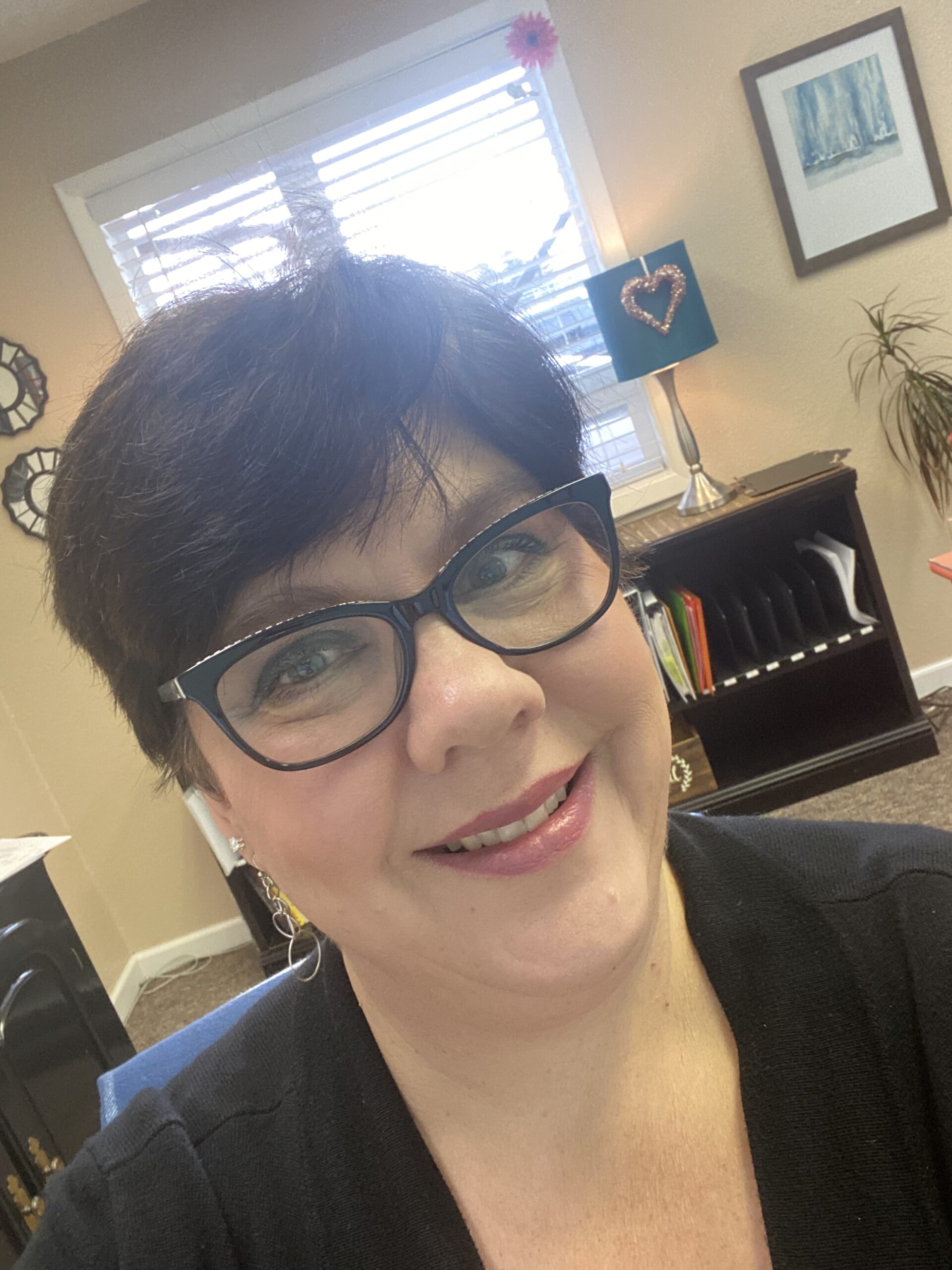 Pam Greene is an Owner of Amcom Tax and Accounting and Shameless Resolution. Businesses that emphasize customer service and creating a better experience for clients. She is an Enrolled Agent and has been preparing taxes for 15 years as well as helping clients negotiate with the IRS. She is a farm wife and mother of two adult children. She loves the Klamath community and has been involved with the Klamath County 4-H program and the Klamath Chamber for many years.
---
Paul Simmons
Klamath Water Users Association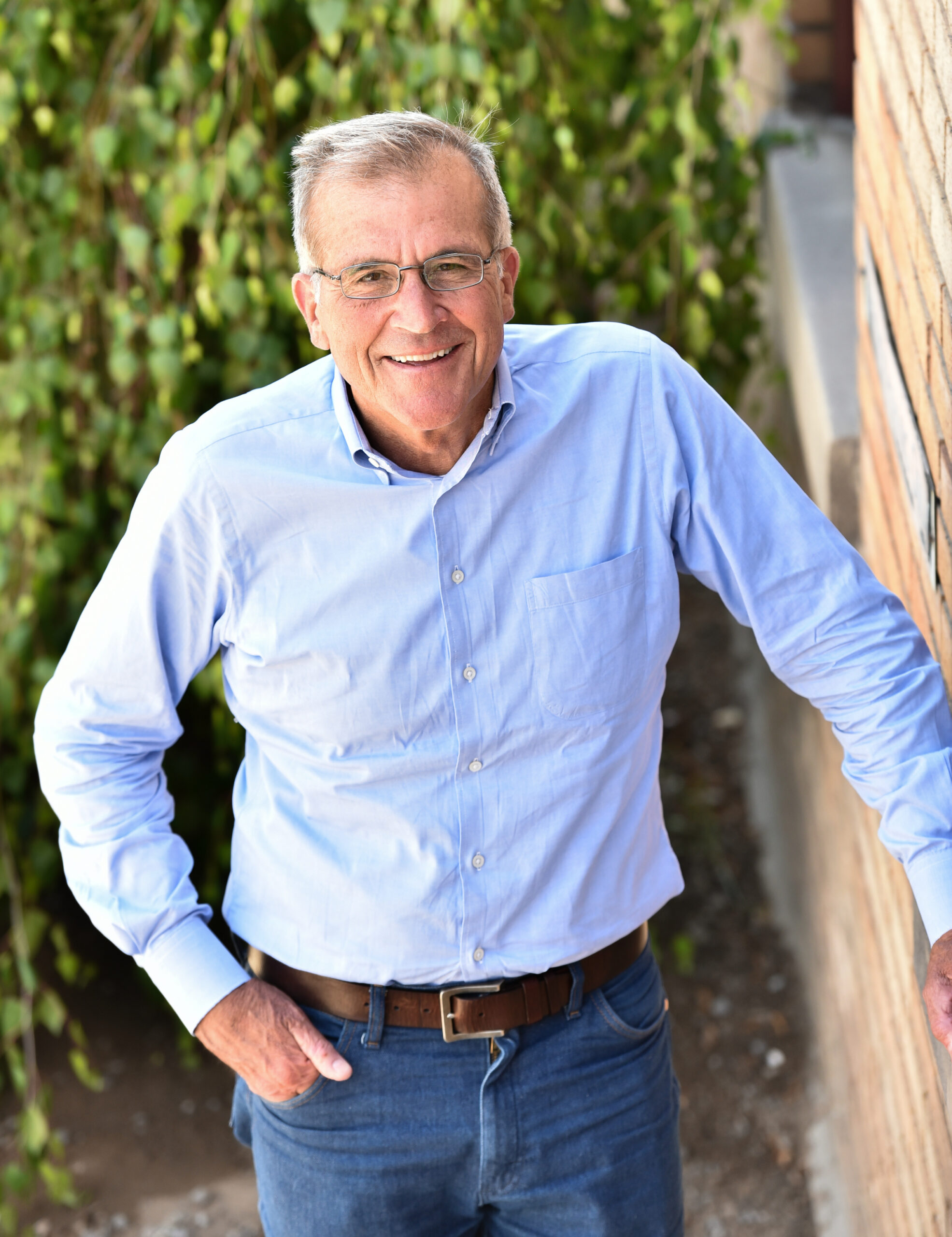 Paul Simmons is the Executive Director and Counsel for Klamath Water Users Association.
Paul has served as KWUA's attorney for water and environmental issues for over 20 years. He is a founder of Somach, Simmons & Dunn, a 25-attorney water and environmental law firm with offices in Sacramento, Boulder, CO and Washington, DC.
He was raised in northwest Missouri, where his family produced corn and soybeans and livestock. After his graduation with honors from Cornell Law School, he worked for the Department of Agriculture in DC before moving west. As an attorney specializing in water rights and environmental issues, he has worked not only in the Klamath Basin but throughout California and in Nevada as well.
Paul assumed the role of Executive Director and Counsel in April of 2019. He remins an employee of his firm, but his work is singularly focused on KWUA business. Paul's wife Michele is a former commercial real estate attorney whose passion for agriculture led her to become the director of an organization having the mission to conserve agricultural land permanently in their home county.
KWUA is a non-profit private corporation that has represented Klamath Reclamation Project farmers and ranchers in its current form since 1953. The Association's membership includes rural and suburban irrigation districts, other public and private entities and individuals who operate on both sides of the California-Oregon border. These entities and individuals typically hold water delivery contracts with the United States Bureau of Reclamation. The Klamath Project is home to over 1200 family farms and ranches and encompasses over 170,000 acres. KWUA is governed by an 11-member board of directors who are appointed from Klamath Project member districts.
Klamath Chamber Staff
Heather Harter
Executive Director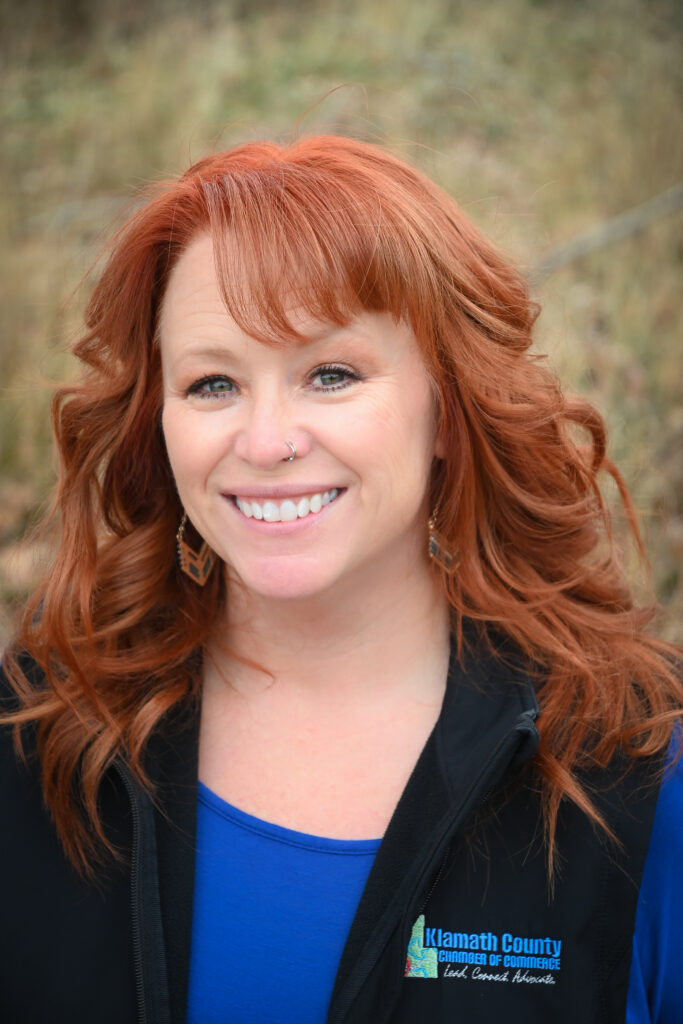 Heather joined the Chamber staff in August 2008 as the Marketing and Program Coordinator. Prior experience has provided an opportunity to build excellent communication, project management, and problem-solving skills. Most recently, Heather was appointed the
Executive Director of the Klamath County Chamber of Commerce in November, 2016.
She has a strong background in customer service, serving as a Customer Care training coordinator. In this capacity, Heather helped identify areas for improvement and then developed curriculum to provide solutions. She delivered the curriculum in classroom settings as well as online via webinars. Heather has also worked in law offices as a legal assistant. She believes the success of a community relies on its citizens and encourages people to get involved.