Giving Your Business a Voice in Government!
It is important to stay vigilant and engaged as the legislative sessions can be full of surprises and unintended consequences. We hold regular face-to-face visits as well as conference calls with legislators to discuss the issues most important to our membership and effect change in the seeming anti-business/anti-rural process taking place in both Salem and Washington D.C.
With your help we can continue to partner with organizations that strengthen our efforts and share our values and interests. You can help by:
Signing up for our legislative alerts
Providing comments and testimony when issues arise that need support or opposition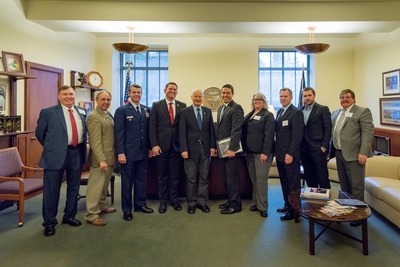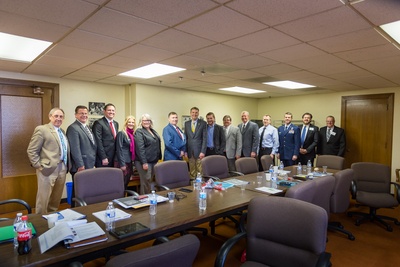 Our regular activities have included:

Annual Klamath Day at the Capitol (learn more about our 2017 Day at the Capitol)
Candidate mingles that give you a chance to meet with those running for office
Legislative alerts to give you timely information on issues that could affect your business
Conference calls with legislators

Wondering what issues we tackle? Review our Public Policy Agenda (pdf) and contact us at (541) 884-5193 if you have any question

Top Right: Klamath delegates meet with Secretary of State Dennis Richardson, Bottom left: delegates meet with Senator Dennis Linthicum. Photo credit: Brian Gailey Photography.