Chamber Champions
The Champions program of the Klamath County Chamber of Commerce is a membership outreach and retention program. Champions are volunteer goodwill representatives, working with existing and new members to relay information, identify concerns, promote member involvement, and provide assistance with member retention efforts
Champions Job Description
Attend Champions business meetings
Attend Awake @ 8'ish networking events.
Attend new member visitations.
Serve as a greeter at luncheons, business after hours and seminars.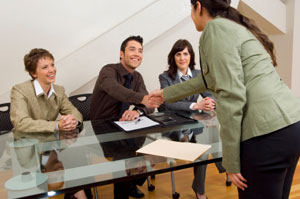 Contacts assigned new members, either by phone or in person to welcome them, invite them to attend breakfast forums/seminars, business after hours, etc., explain benefits and answer any questions they may have.  Offer to meet them at the different events to introduce them to other Chamber members and help them feel comfortable.
Participate in Chamber events such as Street Fair, Annual Banquet, Golf Putting Challenge, etc.
Increase awareness of Chamber services and programs throughout the community.
Wear the Chamber Champions blue vest and name-tag during Champions events.
Benefits To You As A Champion
Increased knowledge of Chamber programs
Greater knowledge of business community
Community involvement
Visibility-you and your company will be visible at all Chamber related functions
Promotion through Chamber website, social media, and publications
Leadership-build and advance effective, relevant, and professional programs and networking opportunities for Champions members
Eligibility for the Champions of the Year award
Direct contact with decision makers
Lifelong friends!
Our Champions
Are you a Champion?
Apply Here. We Need You!
When you see one of our hard working Champions (they are the folks in the black jackets or blue vests) let them know how much you appreciate what they do for the Chamber!